The end of marketing cookies – Is the cookieless reach the advertising inventory of the future?
54% of German online users reject cookies when surfing on the desktop or adjust them individually. As a result, publishers lose valuable reach and large parts of their revenue.
Would you like to learn more about cookieless users? What motivates users to reject cookies or edit cookie settings and what is their online purchasing behavior like?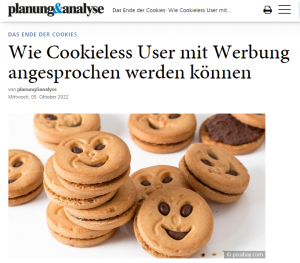 You can find out all this and more in our latest article in planung&analyse.
In our current online reachability study, we take a closer look at the motivations of cookieless users.
The results show that the majority of users reject cookies or edit cookie settings in order to protect data and to reveal as little as possible about themselves. On the other hand, less than half of the cookieless users give a direct connection with advertisements as a reason. Monetizing this inventory therefore offers great potential for publishers.
Are you interested in monetizing the cookieless inventory?
We would be happy to advise you – quickly and easily. Click here and send us a message.