Download
AdDefend-Computec-CaseStudy-EN.pdf (209KB)
Users benefit from long-term free access to premium content

Background:
Germany has one of the highest adblocking rates. According to the OVK, in the second quarter of 2017, 20.4 % of German internet users were using adblocking software. If you add those users who do not see any display advertising due to installed firewalls, virus scanners or browser settings, one third of German internet users is no longer addressable with regular online advertising – causing an immense loss of revenue for publishers.
Computec's target audience is especially interested in technology. The publisher's reach includes titles such as PC Games, Linux-Magazin and golem.de. Given their readers' interest in the newest technological developments, Computec was faced with a much higher rate of adblock users than average, resulting in a significant loss of reach.
The AdDefend solution:
Computec aims at providing its readers with long-term free access to their premium content. For this reason, they started a cooperation with AdDefend. AdDefend's adblock advertising platform forms an effective solution to the adblock problem by reliably reactivating the blocked inventory. Advertisers on the Computec reach obtain access to the attractive target group of adblock users. In Germany, this group comprises 10 million unique users and is highly attentive to advertising since it is not exposed to the high number of obtrusive advertisements on the regular reach. CTR statistics demonstrate an excellent performance on the AdDefend adblock reach.
Adblock users are quite open to advertisement. Regarding the CTRs of the campaigns we ran so far, it is striking that the click rates of our ads displayed to adblock users constantly generated good or even better performance rates than on the regular reach.
AdDefend displays modified ads to users of adblockers and the Firefox privacy mode. Both groups can be targeted separately. The AdDefend solution is integrated with many ad networks and is connected to a wide variety of demand-side platforms and performance networks. With complete planning reliability, a 100% fill rate can be achieved. Ads are optionally displayed through the publisher's own ad server or via AdDefend.
Partnership Objectives:
At the outset of the collaboration between Computec and AdDefend, the goal was to counteract the negative effects of the increasing usage of adblockers for publishers, advertisers and users alike. Computec was looking for a solution that would allow them to continue the delivery of premium content to their readers without implementing payment barriers and without blocking selected content for adblock users – these options lead to a loss of readers in the long term.
By reactivating the blocked reach via AdDefend, significant revenue can be generated, whereby Computec almost completely independently self-markets these ad spaces. The user acceptance is immense: AdDefend calls for strict quality criteria for the creatives and closely monitors campaign results as well as reportings to guarantee a positive user experience.
Results:


Adblock users accept highquality display advertising – Excellent performance on the adblock reach
Result 1:
At Computec, the adblock reach achieves at least equal performance rates and helps to increase the marketable inventory by more than 30 percent – especially noteworthy considering Computec's tech-savvy target group. Since only very few banners are displayed to this attractive new target group, there is no so-called banner blindness among adblock users.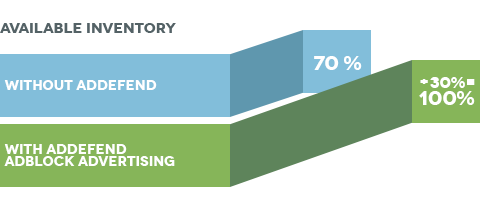 Result 2:
In-house sales by the publisher comes with a lot of benefits:









---
About the Computec Media Group:
The Computec Media Group reaches millions of viewers and readers every month with its media, events and services in the world of electronic entertainment and mobile. Computec Media is the leading media company in the IT, games and mobile segment and offers its users competent information, services and events on the topics of digital entertainment, gaming, hardware, IT, CE, software and film.
www.computec.de