The corona pandemic is increasing the ad blocker rate significantly. About 43% of German employees currently work from home, that was found out by the market research platform Appinio in their current Corona Report. 4,500 Germans were asked about their everyday life and consumer behavior during the COVID-19 pandemic. The survey is divided into three waves. The three survey waves were conducted on March 18, March 24, and April 1, 2020 in order to be able to display time history data.
Why does remote work lead to a higher ad blocker rate?
In their private environment, more users use plug-ins, anti-virus software or browser extensions that prevent online ads from being displayed. These users are no longer reachable for advertisers.
The OVK announced the official German ad blocker rate of 23,2% for the fourth quarter of 2019. Since the outbreak of the corona pandemic and the increase of working from home, we detect a significant increase of around 10% of the ad blocker rate on our reach. The number of unreachable users is currently unexpectedly high. On the one hand, this leads to considerable losses for advertisers in this very volatile time. On the other hand, it offers great opportunities.
Appinio's Corona Report found that 56% of users said that they had "surfed the Internet a lot more" since the pandemic started (source: Corona Report (04/03/2020) by Appinio, page 27). While the rate of offline purchases is stagnating, the proportion of online purchases increases by 40% according to the results of the third wave of the survey, which was measured on April 1st, 2020.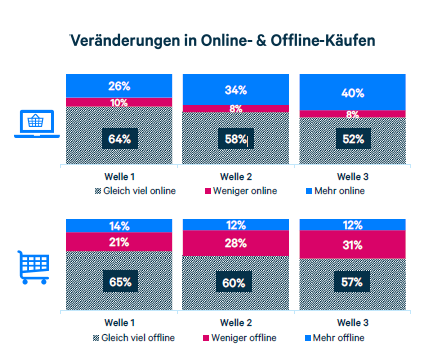 The graphic shows the development of online and offline purchases measured from the first survey wave on March 18, 2020 to the third wave on April 1, 2020. The number of online purchases continues to increase as time progresses. Source: Corona Report (04/03/2020) by Appinio, page 33.
The rapidly increasing online traffic leads to a significant increase of ad blocker rates and thus to a larger number of unreachable users. With AdDefend, however, inaccessible target groups can be reached again: online ads can be displayed via the publisher's server with the AdDefend technology.
Are blocked users open to online ads?
The performance of the campaigns on the AdDefend reach speaks for itself. In order to have a positive impact, it must be ensured that the ads are unobtrusive and appealing, both designed and placed so that they do not overlay any content and do not disturb the users. These and other interesting insights into this unique target group were found out in an advertising impact study.
Advertisers should not hesitate to address target groups that can no longer be reached. Smart advertisers are now taking their chance and place their ads with AdDefend so that even unreachable target groups can be addressed.
For further information or questions you can send us an e-mail or call us on +49 40 537 998 200.